Resin Formlabs Form2/3 Elastic 80A (1 liter)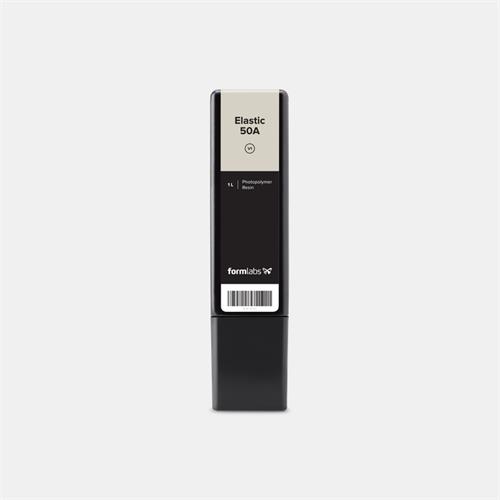 Resin Formlabs Form2/3 Elastic 80A (1 liter)
Softer resin for engineering, suitable for making prototypes normally made with silicone
Log in to see the price
Description and technical specifications
Irrespective of whether you would like to optimise your manufacturing process, produce swift iterations of your designs or assess the shape, fit and function, our engineering resins for Form 2 have been developed to withstand multiple tests and to perform their function subjected to various stresses.
This material with a Shore 50A hardness is our softest engineering resin, suitable for making prototypes normally made with silicone. Choose the Elastic 50A Resin for pieces that must bend, stretch, compress and resist a large number of cycles without tearing quickly returning afterwards to their original shape.
The number "50A" that appears in the resinâ€s name represents the Shore hardness of the material. If you need a more rigid flexible material, try out the Flexible 80A Resin.
Available for Form 3, Form 3B and Form 2.
Compatible print resolutions: 100 microns.
Requires post-curing.
Requires use of a LT Resin Tank if a Form 2 is used.
Requires use of a Form 3 Resin Tank V2 if a Form 3 or a Form 3B is used.
The Elastic Resin shortens the useful life of the resin tanks. Read more about the useful life of the LT Resin Tank and useful life of the Form 3 Resin Tank.
Warning: The Form 3 Resin Tank V1 is incompatible with the Rigid Resin, Grey Pro Resin, Elastic Resin and Tough 2000 Resin. There are two versions of the Form 3 Resin Tank: Form 3 Resin Tank V1 and Form 3 Resin Tank V2. You can read more about the tank versions, their useful life and maintenance in our help article.