Printer Formlabs Form 3B+ Complete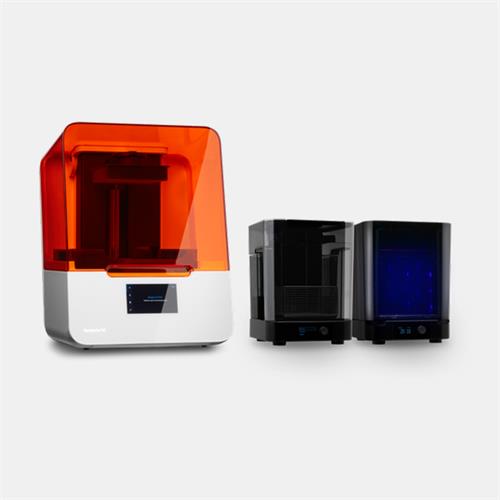 Printer Formlabs Form 3B+ Complete
The Formlabs 3B+ is the next generation of desktop SLA 3D printing for dentistry. In addition, this pack includes products and benefits at an exclusive price.
Log in to see the price
Description and technical specifications
Includes:
    - 1 Form 3B+ printer
    - 1 resin tank
    - 1 build platform
    - 1 finish kit
    - 1 cartridge of Model Resin
    - Preform Software
    - 1 Form Wash
    - 1 Form Cure
    - 1 Year Service (Warranty + DSP)
Formlabs Form 3B+ Features:
- LFS (low force stereolithography) 3D printing balances detail and speed.
- Optical system maintains a precise and dense laser spot to ensure accurate and repeatable prints.
- Easy cleanup and smoother parts with much smaller contact point holders.
- Integrated sensors monitor and maintain ideal conditions for consistent performance over time.
- Change materials in seconds with a simple cartridge system.
- User-replaceable components and foolproof design maximize uptime.
- Print from anywhere with the Remote Dashboard system.
- Work efficiently as a team. Monitor and manage prints and equipment with PreForm and Dashboard. Track individual usage and adjust the print queue when you need to prioritize.